How often have you heard the phrase, wake up and smell the coffee? Well, a significant number of traditional copy/print dealers will be doing just that in 2023. Many dealers in this sector have already started supplying coffee and other vending machines — such as water, snack, and sandwich dispensers — to their existing customer bases. And they're also looking to win new business in this potentially lucrative market. It's part of a broader shift amongst the European copy/print dealer community to diversify offerings and grow revenue in the face of shrinking copy/print margins.
Service Management Synergies
At first glance, there might seem to be little synergy between the copy/print and the coffee or vending machine markets. However, coffee and other vending machines — like printers and copiers — need field maintenance, use meters to track consumable levels, and rely on precise, timely consumable shipments. So, many of the processes and skills that copy/print dealers have developed are highly transferable. In some instances, the same is true of their field management solutions. Asolvi's Evatic, for example, allows dealers to manage their copy/print and coffee/vending machine businesses in a single solution.
Decline in Paper, Growth of Coffee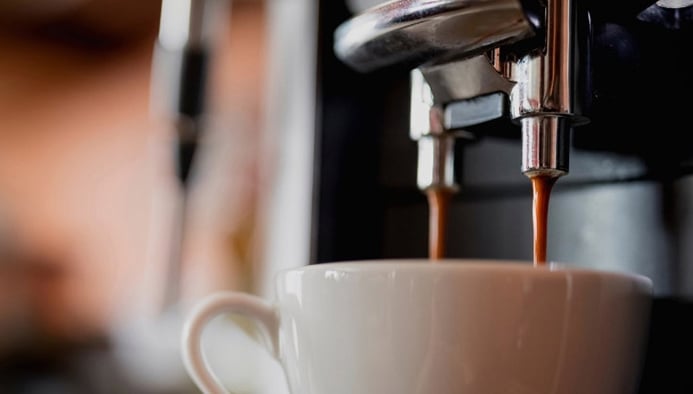 COVID, and the impact of work-from-home policies across most of Europe, meant that over the last two years, print volumes and consumable use have declined. And many copy/print dealers tell us that print volumes and margins won't return to pre-pandemic levels in 2023 — if at all. By contrast, as employees returned to work, businesses have adjusted how they supply food and drink in their offices. As such, demand for vending machines has risen — and is set to continue climbing next year.
There are two reasons for this. Some businesses have moved from central urban locations to out-of-town industrial parks. This means it's harder for employees to quickly grab a quick coffee on the way to the office or a sandwich and drink at lunchtime. Employers, keen to retain staff, are renting food and drink vending machines to create more conducive working environments with all the amenities that staff have come to expect. Furthermore, to keep costs down, and in response to greater hybrid working, businesses — even in city-centre locations — are turning to self-service and unmanned canteens.
Both these factors mean there's a growing market for coffee and vending machines precisely when demand for copy/print machines and consumables is in decline. For copy/print dealers with the agility and foresight to expand their offerings, this represents a superb and timely opportunity not just to replace lost revenue but significantly grow their business.
Copy/Print Dealers With a Competitive Edge
Furthermore, copy/print dealers are generally ahead of traditional coffee and vending machine companies in terms of automated, digitalised consumables delivery and field service management — with many still relying on paper-based ordering systems and engineer reports. This puts copy/print dealers, especially those using Evatic, at a great advantage.
With the right consumables management software in place, copy/print dealers that service the coffee and vending machine markets can do so without holding high volumes of stock, with less potential for errors, higher customer satisfaction levels, better cash flow, and superior warehouse management. Machine maintenance in the field should also be more accurate and efficient, thanks to mobile engineer reporting.
Smart Strategies for Success in 2023
Taking all these factors into consideration, copy/print dealers should be in an excellent position to maximise profits, create healthy margins and compete very effectively with companies that traditionally occupied the coffee and vending machine space.
Plus, for those offering several workplace technology solutions to their customer base, there's the potential to build closer links, deliver even better value, and simplify supplier and contract management. No wonder, then, that 2023 is likely to be the year of extensive diversification amongst many of the continent's copy/print dealers into the coffee and vending machine sector.
Find out more about Evatic's functionality or contact our sales team.