On May 23rd, Asolvi hosted a round-table knowledge-sharing seminar in collaboration with Katun Germany. It took place at the Deidesheim Hotel in Deidesheim an der Weinstraße, Germany's famous wine region. In attendance were a number of Asolvi/Katun mutual clients in the documents and imaging industry.
The seminar revolved around several key challenges that office print providers face:
How can we be more profitable despite falling click prices and print volumes?
How do other successful companies handle this?
Where are the quick wins?
Print Audit led the discussions with their insights on the industry shift from cost per page (CPP) to seat-based billing (SBB), aka cost per seat or cost per user. They also focused on charging end customers for scans.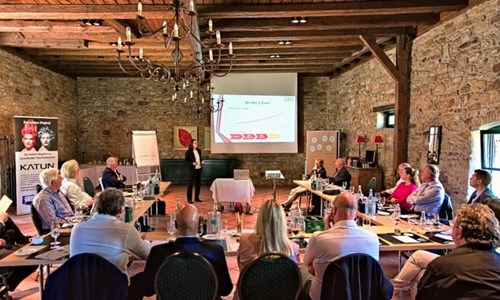 Asolvi's Rene Musch ran a session on the real value of a field service management software solution. In particular he explained whether to use total-cost-of-ownership (TCO) or return-on-investment (ROI) principles when deciding to buy a solution. (Our article, How to really value software (it's not just about the cost), has more on this.)
Ketil Johnsen from EBS Solutions talked about the optimisation projects they have done for several Asolvi customers in Germany using our Evatic system. They pointed out that process optimisation is not just about software.
We finished off with a tour of the vast cellars of Von Winning winery. This was followed by an excellent dinner and some in-depth conversations about the future of office print that ran into the early hours.
Thank you to all our clients who attended, and to all the presenters, in particular Frau von Renz and Nicolas Gerard for their very honest and eye-opening insights. We really appreciated everybody's input and we look forward to the next event!
To find out more about how this industry is changing and how you can get ahead of the change, download our free ebook, The New World of Office Print: How To Become What Your Customers Need You To Be.