Binary Soluciones ("Binary") has established itself as a respected provider of field service management software not only in Spain but also in Colombia, Argentina, Mexico and Peru serving close to 200 customers. The acquisition of Binary will enable Asolvi to expand its reach in Spain and Latin America and enhance its offerings with Binary´s expertise in mobile workforce management, maintenance scheduling, and other essential aspects of field service management.
Antonio Delgado Prieto, CEO of Binary says: "I am very excited to join the Asolvi family and its potential to better serve their customers with the combined expertise of both companies." Asolvi's CEO, Pål M. Rødseth comments: "We are delighted to welcome the talented team of Binary, the acquisition will be a significant step in Asolvi's growth strategy and enabling us to be a significant provider of field service solutions in the Spanish and Latin American markets. The addition of Spain and Latin America with many customers within one of our core industry verticals further segments Asolvi as a leading provider of service management solution to this industry".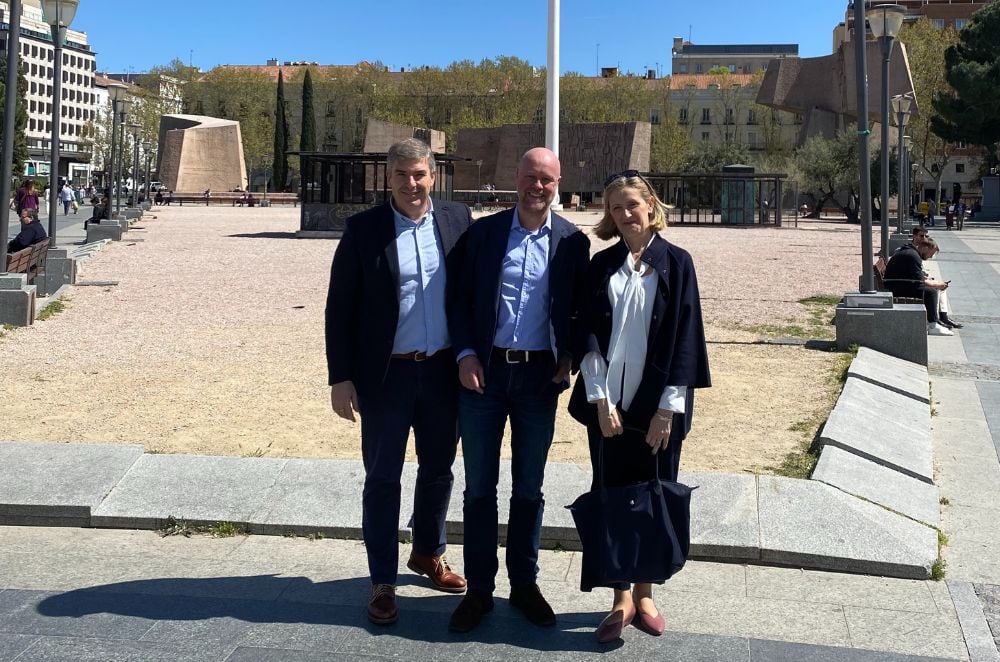 From left: Antonio Delgado Prieto, Pål M. Rødseth and Ana Belen Garcia Santos
The acquisition of Binary is an important milestone for Asolvi, and it reflects the company's commitment to expanding its offerings and reach to provide exceptional service to its customers in Spain, Latin America, and beyond. The combination of Asolvi's and Binary's expertise will enable the company to deliver even greater value to its customers and create new opportunities for growth and innovation.
Erik Berggren of Volpi Capital comments: "The acquisition of Binary is an important milestone for Asolvi and our strategy to create a more international business. It demonstrates the strategic importance of the Fire and Security sector, as well as ability to grow through acquisitions into new geographies. We warmly welcome Antonio Delgado Prieto and his team." Fernando Piekenbrock, of Volpi Capital, adds: "We have been impressed by Antonio Delgado and his team since our first meeting, and we are thrilled to welcome them to the Asolvi family. Together, we will accelerate the continued growth of our combined business."
Jostein Vik, Partner at Viking Venture also congratulates: "Binary is a perfect add-on acquisition that strengthens our offer within alarm, fire and security industry. We welcome Antonio Delgado and his team to the Asolvi family."
With a presence in close to 40 countries and over 1,800 customers globally, Asolvi is now better positioned to increase its market share and establish its position as a leader in the European and Latin American field service management software industry. Asolvi has more than 100,000 users worldwide, and this acquisition will only enhance their ability to serve their customers better.
About Asolvi
With decades of combined experience developing solutions for a variety of field service sectors, Asolvi's products support thousands of engineers, millions of contracts, and tens of millions of service tasks. Its mission is to continue creating, deploying and refining new functionality and solutions for the largely under-served SME market, through close customer relations and strategic partnerships.
Asolvi is a leading provider of service management software for small and medium-sized enterprises (SMEs) in the field service industry in Europe, employing more than 160 staff in eleven offices across the Europe and Latin America. The company was founded in 1991 in Trondheim, Norway, and has grown organically and through recent acquisitions to reach 1,800+ customers in 40+ countries. It is headquartered in Trondheim, Norway, and is a private company owned by Volpi Capital, Viking Venture and the Management.
Press Contact: Marit Lund E-mail: press@asolvi.com Phone: + 47 7380 2200