In today's fast-paced business environment, connectivity and integrations are critical factors when investing in a new system. They are also key to ensuring your existing platform remains fit for purpose. Companies need to ensure that their investment will connect seamlessly with the rest of their IT systems. However, implementing integrations can be a daunting task that historically has required significant development resources and long implementation lead times.
According to Bjorn Gresseth, Technical Director at Asolvi Nordics, developing and adapting a typical integration has historically taken between 200 and 400 hours, which represents not only significant time, but also substantial cost.
"At Asolvi, we understand the importance of integrations and have been looking for ways to develop them more efficiently" stated Bjorn. "Our dedication to the specific industry sectors in which our clients operate means we understand their needs and how important it is to deliver projects faster. After a comprehensive market appraisal, we are now proud to announce that we have selected Azure Logic Apps as our key integration partner to enable us to deliver integration at lower cost and in dramatically short timescales then has ever been possible previously."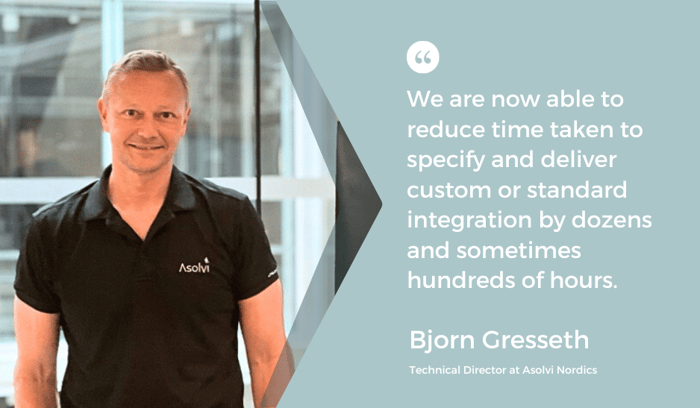 Bjorn continues "Azure Logic Apps is a feature-rich integration platform that fits our clients' needs perfectly. It enables us to develop and scale fast, build integrations much quicker, make changes easily and add or change fields without any hassle. With Azure Logic Apps' help, we can deliver projects faster than ever before."
The Importance of 'Cloud'
With an ever-increasing number of businesses looking to move their key systems to the cloud, our new approach to integrations ensures that existing integrations can be replicated, or even improved, while further reducing the barriers to entry for existing clients and new customers who are looking to transition from on-premises solutions to the cloud.
With Evatic now available as a true cloud solution, this new and exciting approach to integrations could not be timelier. With full control over both Evatic and its integrations with your other core systems, Asolvi has full visibility over your key data integrations. We know what connects with what, when it is working correctly, and on the occasions when something breaks or needs expanding, we are perfectly placed to deliver your end-to-end solution.
How Evatic and Azure Logic Apps can Help Your Business
In a remarkably short space of time, Bjorn and his team have already delivered integrations for solutions including Visma.net, Tripletex, PowerOffice GO, Microsoft BC and Rackbeat. Working alongside Evatic clients we are now able to reduce the time taken to specify and deliver custom or standard integration by dozens, and sometimes hundreds of hours.
Whether you are looking for industry-standard integration with accounting or ERP systems such as Visma or want to leverage more specialist integrations such as our ever-expanding capabilities for the coffee/vending market, our new Azure Logic Apps-based approach makes it quicker, easier, and cheaper than ever before. Most importantly, this relates not only to initial integrations, but ongoing changes and modifications as well.
Flexible Integration Solutions: Empower Your Business with Azure Logic Apps and Asolvi
We know our clients have differing needs. In some situations, it is most appropriate for the client's ERP or CRM system to be the 'Master' system. In other cases, Evatic is best placed to be the 'Master'. The beauty of our Azure Logic Apps-led approach is the ease with which we can accommodate either scenario.
As a reliable and intuitive partner, the Evatic team at Asolvi are now well placed to provide an even more effective one-stop service to our customers to ensure they have the integrations they need to increase efficiency, reduce costs, and improve operational effectiveness in a true partnership.
For more information on integrations and services that Asolvi can provide with click here.