Like many companies, TESS faced the challenge of managing their workload while maintaining high service standards. They sought a software solution that could streamline their back-end operations, eliminate paperwork, and enhance workflow efficiency. Their main goal was to reduce the time spent coordinating with engineers and to automate a wide variety of tasks. They also required a cloud-based system, offering benefits like accessibility from anywhere, scalability, robust security, and instant updates.
Choosing Asolvi Protect
After conducting extensive research, which involved using Alarm Master and testing alternative solutions, TESS decided to implement Asolvi Protect. They discovered that only a few systems offered the combination of industry-specific reports and checklists, and workflows tailored specifically to the fire and security industry.
Darren Norton, Director at TESS said:

"After thorough market research, we selected Asolvi Protect as our preferred solution. It not only streamlines our operations, improves our cashflow, and provides the latest cloud technology benefits, but also provides the industry expertise required for the Fire and Security sector, to ensure regulatory compliance."
Increased efficiency and productivity
TESS experienced a substantial improvement to operational efficiency and overall productivity following the implementation of Asolvi Protect. One notable outcome was a significant reduction in the office manager's workload.
By automating and streamlining billing, ordering and job sheets, Asolvi Protect enabled the office manager to reduce her workload by over half a day each week, allowing her to redirect her focus towards strategic initiatives and high-value activities.
Enhanced cash flow
Asolvi Protect's automated invoice capabilities replaces the need for manual creation, resulting in a substantial reduction in processing time, and timely, accurate invoicing. This had the additional benefit of improving cash flow by expediting payment collection through an accelerated billing process.
Streamlined communication
Asolvi Protect has played a vital role in enhancing and streamlining communication among TESS's engineers. By eliminating reliance on paperwork, they have been able to remove the risk of document loss or misplacement. Engineers now access job-related documents, instructions, and updates in real-time, regardless of their location. This instant access to information empowers TESS's engineers to provide timely responses, promptly resolve issues, and deliver enhanced service to clients. Key features such as the planner and job booking tool further optimise workflows and resource allocation, ensuring efficient task scheduling and adherence to defined timelines.
Cloud-based efficiency and accessibility
As a cloud-based solution, Asolvi Protect provides all the latest benefits of a modern cloud software. TESS gained the flexibility to securely log into Asolvi Protect from any location: whether in the office, on-site, or working remotely. Authorised users can conveniently retrieve crucial data, generate reports, and manage tasks. Team members are able to collaborate seamlessly and manage tasks with ease, boosting productivity and contributing to TESS's day-to-day management.
Darren reflects: "With the implementation of Asolvi Protect, we eliminated paperwork, streamlined processes through automation, improved engineer communication, and optimised cash flow. Our operations are now more efficient, cost-effective, and environmentally friendly."
About Asolvi Protect
Asolvi Protect is a cloud-based software solution that doesn't just automate business processes but also offers industry-specific features, making it a perfect choice for companies like TESS.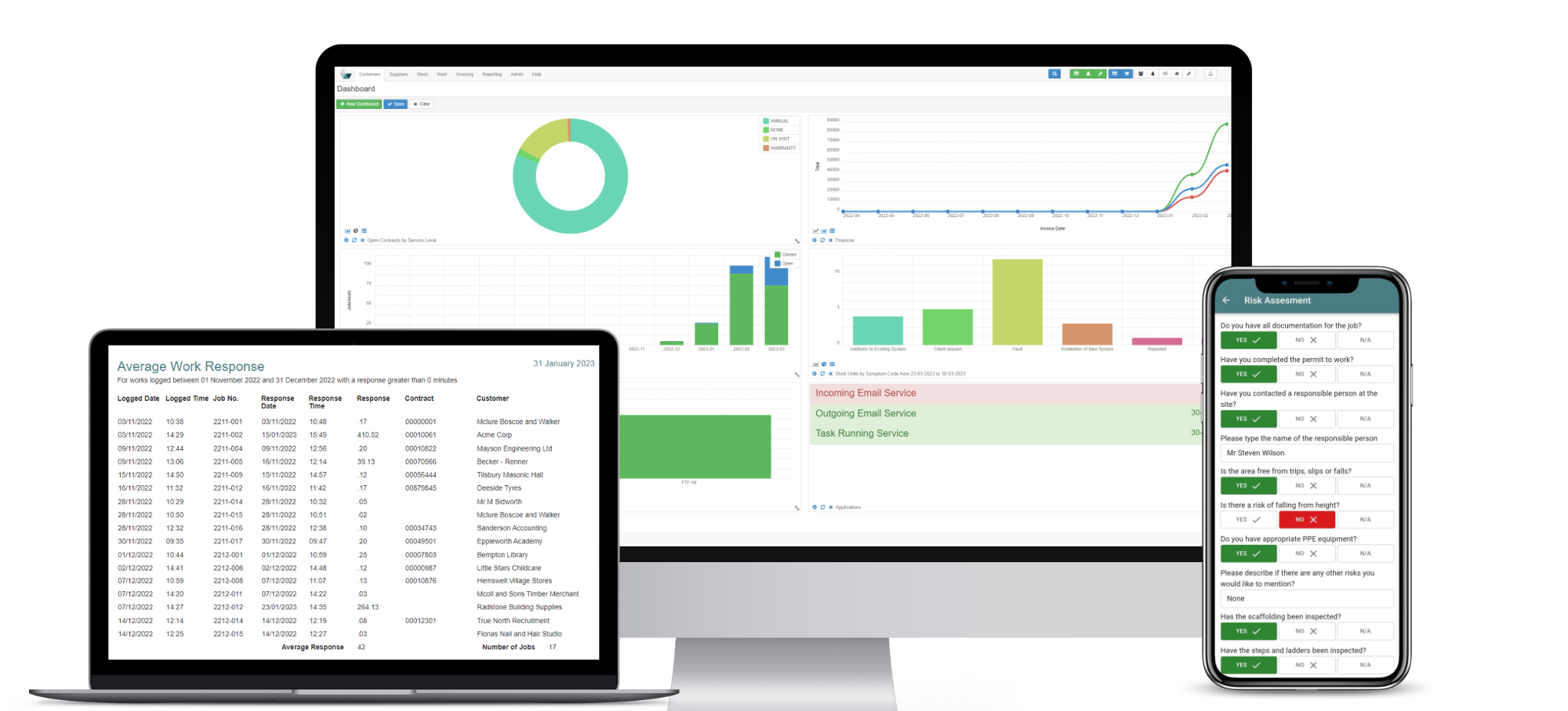 With its ability to ensure NSI, SSAIB, and BAFE compliance, it improves customer service by getting the right person on the job with the right information. Through its full contract management capability, it enables users to manage service contracts and billing in one place, providing powerful analytical tools for deeper insights into operations to boost profitability.

Asolvi Protect's built-in industry-standard reports can be customised to your needs and sent automatically, reducing administration. With dynamic dashboards and a real-time Analysis Centre, Asolvi Protect ensures that both you and your clients have what you need, when you need it.
Read more about how Asolvi Protect can benefit your business or book a demo below.